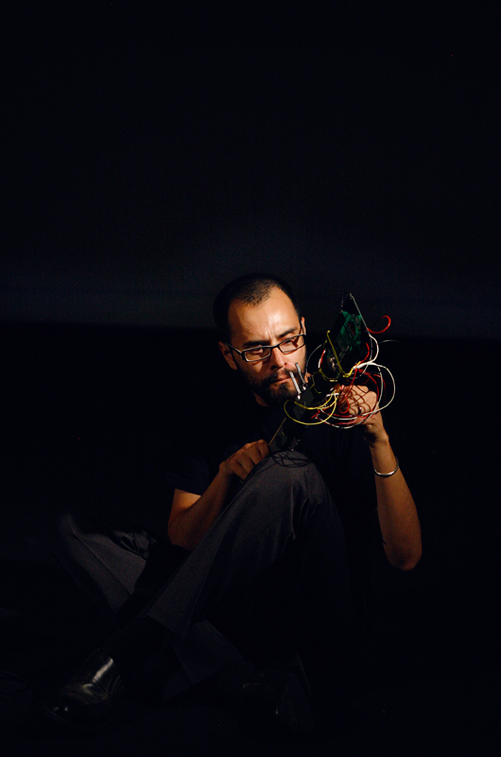 Cristóbal Martínez was born in Santa Fe, New Mexico, and raised in the Española Valley Pueblo de Alcalde. Martinez is an artist-scholar whose work extends from his Northern New Mexican Mestizo roots. He is a practicing and publishing digital designer, artist, and scholar in rhetoric, the learning sciences, and diversity studies. As an artist-scholar his work is grounded in deep technical, rhetorical, and aesthetic knowledge for positioning metaphors through the composition, installation, and performance of conceptual art. Cristóbal's work demonstrates his extensive practice in designing, testing, and refining intermedia among diverse groups of people and across disciplines. He is a publishing critical studies scholar in writing, rhetoric, and literacies with a focus on indigenous convolution media, which he describes as the spiraling confluence of traditional indigenous ceremonial media, physical media, old electronic media, and emerging digital media technologies. In weaving his art and scholarship together, Cristóbal engages publics in inquiry and deliberation on pressing issues tied to high-speed netwroked communication systems, the increasing velocities of media, digital media and learning, and indigenous sovereignty.

Central to his work, Cristóbal collaborates as a member of inter-cultural Chicana/o and Native American interdisciplinary collectives. These learning communities generate conceptual artworks that mediate complexity associated to globalization emergent upon their ancestral homelands — a hemisphere upon which the theater of neo-liberalism, digital networks, militarized borders, market systems, hi-speed pervasive media, fast capitalism, and other potential forces of colonization are enacted. Working within the midst of this theater, their conclusions are expressed through critiques; community engagement practices; by connecting naratives of indigenous self-determination; and by modeling solutions that, within distinct contexts, might be useful for operationalizing varying forms of indigenous sovereignty.

Cristóbal's contributions are a synthesis of his cultural and experiential knowledge as a mestizo, his scholarly work, and the knowledge he gains from the indigenous inter-cultural collaborations he participates in. His intentions are to co-intentionally contribute toward the development of indigenous media as self-determined re-imagined ceremony, and toward the ability for indigenous peoples to position indigenous reimagined ceremonies for building multiple economic, legal, cultural, rhetorical, pedagogical, medical, and aesthetic capacities that respond to people's locally self-determined needs and desires.

Cristóbal is a member of the indigenous artist collectives Postcommodity and Radio Healer, and is a forthcomming Postdoctoral Fellow at Arizona State University, where as a National Science Foundation Graduate Research Assistant, he completed his doctorate in Rhetoric, Composition and Linguistics. Cristóbal's work has been published, presented, exhibited, and performed throughout North America, Europe, Australia, and in Africa.